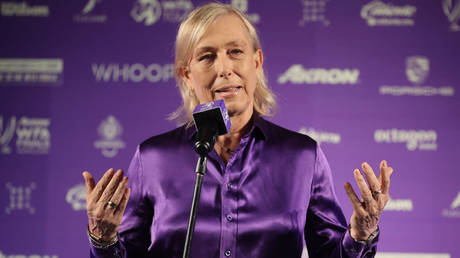 The tennis legend claims Djokovic needs to act "for the greater good" by "taking one for the team" and getting vaccinated
Sporting icon Martina Navratilova has urged Novak Djokovic to lead by example by taking Covid shots to ensure he does not fall "really sick", admitting that she "couldn't wait" to get vaccinated.
Former world number one Navratilova has watched in horror as Djokovic's saga has played out in Australia, where he was detained for several days because he had not been vaccinated.
The top male player in the world was released by a judge on Monday and now looks set to defend his Australian Open title when the tournament starts on January 17, although reports claim he could still be arrested and have his visa canceled by the country's government.
"It's beyond belief really – what a saga," 18-time Grand Slam title winner Navratilova told Good Morning Britain.
@GMB Martina Navratilova is the voice of sanity. We take our vaccines to help ease the spread and ease the effects of covid. We see by the figures who is now being effected worse and it's the unvaccinated.

— David marshall (@davedmm1974) January 10, 2022
https://platform.twitter.com/widgets.js
Martina navratilova on GMB.

Novak is a leader but should have taken one for the team and got vaccinated.

Fuck off man, respect for her just went out the windae

— Sir Staunch Van Duck (@DuckStaunch) January 10, 2022
https://platform.twitter.com/widgets.js
"I just wish that Novak had taken that vaccination to begin with. He's a great leader; he's an amazing, amazing athlete. I've defended him so many times but I cannot defend the choice to not be vaccinated.
"If you don't want that vaccine because you don't know, you don't want it, whatever, you still need to take one for the team. If you want to lead, you need to lead by example. That example would be what's for the greater good.
"All this could have been avoided but here we are and who knows where it will all end up? It's just getting crazier by the minute."
Australian Open boss Craig Tiley has claimed that 97 percent of players have now been vaccinated, but Djokovic, who had previously told people not to take the "liberty" of asking him about his status, confirmed that he has not been jabbed in court documents presented at his hearing.
Seems Nigel Farage is telling Andy Murray his version of Shut up and dribble. Par for the course for the right wing assholes who attack the messenger rather than the facts. #nigelcutandran pic.twitter.com/nYsQCPnK7P

— Martina Navratilova (@Martina) January 10, 2022
https://platform.twitter.com/widgets.js
Perfect!!!! Bravo Andy! https://t.co/dTX7kO19zp

— Martina Navratilova (@Martina) January 9, 2022
https://platform.twitter.com/widgets.js
"We're in such close contact in the locker rooms and you obviously are raising the possibility of getting Covid," rued Navratilova, who lifted the trophy in Melbourne in 1981, 1983 and 1985.
"Also, if you get it, you can get really sick. I was in line and I couldn't wait to get vaccinated. I would have been waiting in line 30 years ago.
"I would be much more scared of getting really sick from not being vaccinated than whatever side effects I might have from the vaccination.
"Billions of people are hoping to get vaccinated and they can't get the vaccination. We have that problem here in the [United] States of many people choosing not to have it.
I have officially cancelled Navratilova and Evert and I used to love watching them play.

Mischievous snarky comments always

— Tennis Puneet (@TennisPuneet) January 10, 2022
https://platform.twitter.com/widgets.js
Navratilova live on the UK TV from Miami – "Novak should've followed their rules, Australians were in a long lockdown."
Ha? Didn't FEDERAL Judge Kelly just said he'd followed the rules and Novak won the appeal…??#WeStandWithNovak

— 𝚗𝚒𝚌𝚔. A⑨ (@NoleLondon) January 10, 2022
https://platform.twitter.com/widgets.js
"You really need to be more aware of everybody else. He is in amazing shape, he's one of the world's greatest athletes so you think you're indestructible.
"But we know people have died who were in amazing shape – marathonners and ironmen and so on. Being in amazing shape doesn't mean that you aren't going to get really sick, so I think he was just maybe a little cocky. I won't say arrogant, but maybe naive thinking he would be ok."
Djokovic is expected to be allowed to remain in Australia as part of a much-publicized medical exemption because he tested positive for Covid in December 2021.
The 34-year-old also tested positive following his ill-fated Adria Tour in 2020, which was held at a time when Covid vaccines were not available and much of the sporting calendar was on hold because of the pandemic.
All-time great Navratilova qualified her criticism by speaking of her admiration for Djokovic.
Despite Djokovic's apparent medical exemption

Martina Navratilova insists he should "take one for the team"

These people are disgusting.

— Adam Brimson Designs (@AdamBrimson) January 10, 2022
https://platform.twitter.com/widgets.js
Pitiful & ugly to witness Madely, Reid & Martina Navratilova on GMB just now attack Novak Djokovic for not having the vax. Navratilova doesn't seem to value human rights any more. She thinks Novak should have the jab for the greater good & set aside the possible harms of the vax.

— Fairbrit (@wealdengirl) January 10, 2022
https://platform.twitter.com/widgets.js
"I adore him, he's just such a consummate professional," the 65-year-old confessed.
"I don't know what he was hoping for: if he hadn't got the positive test for Covid, how would he have got the exemption? That's what I don't quite get.
"Even if somehow they let him in, I just don't know how he can recover emotionally from this.
"It's just sapping and, as an athlete, you want to save that energy. It's so divisive: there will be people defending him to the death and there will be people who are really, really ticked off."
Djokovic posed on court hours after his hearing and issued a message pledging to play at the first Grand Slam of the year, which finishes on January 30 and could witness history if he wins his 21st major title.